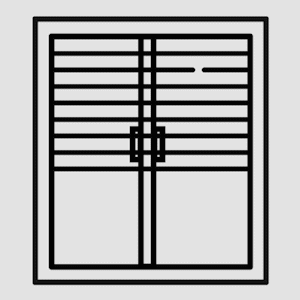 2 Types
Shutters
Fully sealed roller shutters insulate homes and apartments from the cold, heat and noise. Installed with stiff anti-lift links, they prevent break-ins. When closed, shutters guarantee total darkness. When in an open position, they filter sunlight.
A manual shutter can be motorised.
Useful informations
Control options:
Manual: Strap, cord, winch (hand crank), direct pull (ideal for entrance door).
Motorised.
Why should you motorise your roller shutters?
With a motor, you can forget the hassle of hand-cranking! A simple click on a button will simplify life. And thanks to a motor with integrated radio control, you can comfortably use remote control. No more need to walk all around the house: you can control all your shutters from a central point. It's a genuinely connected home!
Benefits of motorised roller shutters:
Automatic limit settings: to guarantee perfect lift and closure over time.
Obstacle detection: automatic motor stop to protect the panel if any obstacles are in the way.
Frost protection: automatic motor stop if the slats are frozen.
Break-in resistance: the lowered shutter resists external lifting attempts. This security can be reinforced by fitting the roller shutter with stiff links (lifting resistance up to 100kg).
Ready for home automation in a connected house.